The ECAC has proudly crowned Wayne State College as the inaugural recipient of its ECAC Esports Commissioner's Cup Award for the Fall 2020 season. The award goes to the ECAC Esports member university whose esports program achieved the most broad-based success across all nine games in which the ECAC sponsored competition. ECAC Esports is conducted in conjunction with CSMG and powered by LeagueSpot.
To win the first-ever ECAC Commissioner's Cup, Wayne State had two Rocket League teams that finished top 16 and second place. The Wildcats also clinched second in the Super Smash Bros. Ultimate playoffs, had two teams place in the top 8 of VALORANT, two teams place in the top six of Fortnite, and had a sweet sixteen Hearthstone finish. Wayne State narrowly edged out The University of Albany for the overall title, which fared well in seven different titles, including a first-place finish in Hearthstone and third in Fortnite.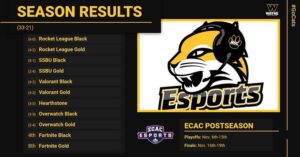 ECAC Esports crowned the following schools as individual game title champions for the fall:
League of Legends: Johnson & Wales University (RI)
Overwatch: RPI
Hearthstone: University at Albany
VALORANT: Catawba College
Rocket League: Illinois Wesleyan University
Super Smash Bros. Ultimate: New Jersey City University
Fortnite: Saint Thomas Aquinas College
FIFA 20 (PS4): Siena Heights University
FIFA 20 (Xbox One): Stockton University
Madden 21 (PS4): WVU Potomac State College
Madden 21 (Xbox One): WVU Potomac State College
ECAC Esports competition begins anew in February, with ten different league titles on the line for the spring esports season. Approximately eighty member schools will be fielding teams for the spring. Registration is currently open for any additional schools seeking to be part of spring competition.
More than 300 teams and 2,000 competitors participated in fall ECAC Esports competition. The action was broadcast nightly on ESTV, and viewership now exceeds 100,000 views per week. Another ECAC Esports Commissioner's Cup Champion will be crowned following the spring competition.
The ECAC and CSMG wish to thank the following sponsors for making the fall season such a success:
HyperX, iBUYPOWER, ESTV, eFuse, DreamSeat, Hyperice
If you are interested in becoming a member or would like to learn more about ECAC Esports, please reach out to Director of Esports, Lydia Fister, at lfister@ecac.org
---
About The ECAC
The ECAC is an 82-year-old organization with over 200 member schools across all NCAA Divisions. The ECAC exists to enhance the experience of student-athletes participating in intercollegiate athletics and provides great value for universities and colleges by sponsoring championships, leagues, bowl games, tournaments and other competitions throughout the Northeast. The ECAC's esports platform is growing and now totals more than sixty colleges and universities and is expanding the geographic footprint for the conference nationally. The ECAC is also sponsoring competitions and leagues involving other varsity and club sports that do not fall under the umbrella of the NCAA.